Obamacare is an initiative put in place to ensure that healthcare is as affordable as it can be to people of all walks of life. The 2010 Patient Protection and Affordable Care Act, often called ACA, lowers the medical costs for patients who can't afford to pay the standard prices. This article will help you understand more about Obamacare since it covers the following;
Definition of Obamacare
How does Obamacare work?
Obamacare cost and subsidies
What Obamacare covers
Obamacare OEP (Open Enrollment Period)
So, let's begin our discussion to find out what Obamacare is and much more about the same.
Definition of Obamacare
It is important to note that Obamacare is a name used to refer to the Patient Protection and Affordable Care Act (ACA). As mentioned earlier, the act enacted into law in 2010 makes health care policies affordable to everyone by lowering the costs to amounts easy to afford regardless of one's income.
Besides that, it governs the behavior of insurance companies ensuring that they don't come up with ways that can lead to restriction of care or increase inpatient cost. For instance, the health insurance covers no longer exclude people who have pre-existing conditions ever since the introduction of Obamacare.
How does it work?
The working mechanism of Obamacare revolves around improving the availability and affordability of health care insurance policies to the people who need them the most. In efforts to make this possible, people had two options. One of the options was to have health insurance, whereas the other was paying a tax penalty. This law, often referred to as individual mandate, no longer holds water since its provision ended in 2019.
On the other hand, it improves the affordability of health insurance regardless of one's income through subsidies. As far as Medicaid is concerned, one can be a beneficiary as long as their income doesn't exceed 138% of the Federal Poverty Level (FPL). However, that is also no longer the case. That's because up to 12 states chose not to expand it, leading to limited access. Most of these states lie in the South, including the following;
Wyoming
Wisconsin
Texas
Tennessee
South Dakota
South Carolina
North Carolina
Mississippi
Kansas
Georgia
Florida
Alabama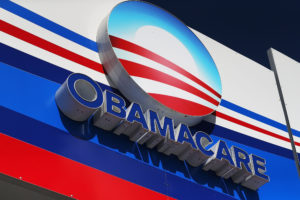 Cost and subsidies
Health insurance policies really come in handy when dealing with hospital deals and many other costs associated with the same. That said and done, beneficiaries have to pay monthly premiums for the covers to remain active and valid. That's where Obamacare comes in. It offers subsidies that make the monthly premium rates relatively low. Consequently, even low-income earners can afford health insurance coverage without struggling financially. These subsidies are also referred to as tax credits.
The subsidies are now higher than they used to be before President Biden signed the American Rescue Plan Act (ARPA) into law on 11th March 2021. This law states that if one is within the federal poverty level (FPL) between 100% and 150%, they qualify for a silver plan without paying a dime. If the federal poverty line is from 150% to 400%, though not free, those in this bracket receive reasonable subsidies.
In the beginning, there was no assistance for those making over 400% of the FPL. Fortunately, ARPA seems to have been in their favor too. That's because it ensures their health insurance premiums are 8.5% of what they earn.
What Obamacare covers
First of all, Obamacare allows you to have health insurance that covers an entire family, including children. Kids who can be included in the parents' cover are those aged 26 years and below. People benefit from these ACA-compliant insurance plans quite a lot since they cover several essential services. They include;
Emergency room care services
Hospitalization (inpatient)
Outpatient too if treated but not admitted
Pregnancy (maternity) or newborn care
Pediatric care
Preventive care
Laboratory tests services
Rehabilitative services
Preventive and wellness care such as chronic diseases management
Substance use disorders or mental health services
Prescription drugs
Devices and services to assist people with chronic conditions, injuries, and disabilities
Obamacare OEP (Open Enrollment Period)
One of the most important aspects when purchasing an ACA-compliant medical coverage is timing. You must enroll during a particular window, usually known as the Open Enrollment Period (OEP). The Obama OEP has already lapsed. It ran between 1st November 2022 and 15th December 2021. The health insurance coverage commenced on 1st January 2022. By the way, the OEP for 2022 remained open until 15th January 2022. However, if you missed the 2022 Obamacare OEP, you can still purchase an ACA-compliant coverage under the following circumstances;
Family events including divorce, marriage, and death
Giving birth to a child
Losing a job
Moving to a new coverage area
Losing an existing cover
If that doesn't apply, you don't have to stay without medical insurance. In some states, you can enroll in a short-term plan. FindMyQuotes can really help you know your options, given that its team is pretty conversant with the options at your disposal, depending on the circumstances that you are in.
Final Words
Obamacare has helped many people enjoy federal assistance in health care coverage. Its mechanisms have also improved the affordability and availability of these coverages. However, that doesn't mean that premiums are constant. As a matter of fact, various health insurance providers charge different premiums. The same also varies from one state to the other.
Therefore, if you need to get an excellent insurance plan that costs you a fair amount of money, consider looking for experts who understand this industry well. A good example is FindMyQuotes. It will surely help you make the right choice without breaking the bank. Keep in mind that a plan is essential, especially if you have a pre-existing condition. Thanks to Obamacare that wouldn't hinder you from becoming a beneficiary. So, consider getting a cover since it will save you a lot of trouble and money in the end.