You have most likely realized just how important the aspect of time is in everything that you do. That's why you want to know when the right time to consider final expense insurance is. This type of life insurance may have a relatively low death benefit, but its advantages outweigh the disadvantages. It is easy to qualify, needs no medical exam, and your insurer starts covering you right away. That said and done, the issue is timing is quite important. Among the options below, which would be the ideal time?
In your 20s
In your 30s & 40s
In your 50s & 60s
In your 70s & 80s
There are high chances many people wouldn't expect the 20s option. However, if there is one thing that's uncertain in this life, that's death. It knocks on our doors unexpectedly, and no one gets to know when that time arrives. With the uncertainty alone and just how sudden it comes in some cases, having final expense insurance can save your family and loved ones a lot of trouble. Besides being prepared for the uncertainty, another aspect makes time in this case crucial. You will get to know it in the course of this article.
1. FINAL EXPENSE INSURANCE IN YOUR 20S
The 20s is the time that most young people start their own lives. College is over, you probably have a job by then, and life is relatively simple. If you decide to take final expense insurance at this age, it would be advantageous.
It would be considered the right time to consider final expense insurance because there will be many options at your disposal. Equally important, the rates available will also be too low. So, if death knocks its doors in your 20s, your loved ones won't strain with the expenses that come with it.
2. FINAL EXPENSE INSURANCE IN YOUR 30S & 40S
In your 20s, you were probably living alone. You no longer live with your parents by then but haven't settled yet. However, that will most likely change in your 30s and 40s. At this age, most people have spouses and children by then. With dependants, the need for final expense insurance becomes even more important.
Grieving your death will already be so much for them. They don't have to struggle with arranging your final send-off, though. You can lighten that burden by having final expense insurance. There are many choices out there for people in this age bracket. It is also important to note that the rates are also affordable. Nevertheless, it would be a lie to say that the rates will be as fair as they would have been if you took it in your 20s.
3. FINAL EXPENSE INSURANCE IN YOUR 50S & 60S
Whereas we have so far advocated for one to consider the final expense insurance as early as their 20s, there is one thing worth mentioning. This insurance cover was designed for the older population, 50 years and above. That's reasonable because very few people think about dying in their 20s, 30s, and 40s. Most people start making their end-of-life preparations when they are 50 and above. Unfortunately, the lives we live are quite different. So, since the eventuality is death and no one knows the exact time, don't assume that the right time to consider final expense insurance is in your 50s.
As much as there are high chances of having grown-up kids at this age, don't overlook the importance of this cover. At this age, your children may have just started living their own lives. Others have young families and so forth. This insurance will ensure they don't pause or rearrange their lives as they fund your last days or plan the final send-off. In your 50s and 60s, you would be doing your children and grandchildren a huge favour by having this insurance cover, no doubt.
4. FINAL EXPENSE INSURANCE IN YOUR 70S & 80S
At this age, you have lived the better part of life. You are most likely retired personnel with not much strength left for you to work. Others are dealing with the various diseases that come with old age. As a matter of fact, not many people are productive at this stage of their lives. In extreme cases, some people in their 70s and 80s depending on others for their daily lives. Many insurance companies often shy away from considering this age bracket for final expense insurance. Additionally, most companies that offer it do it at a high rate.
That's why one wouldn't consider it the right time to consider final expense insurance. Yes, you most likely need the cover the most at this juncture, but what good does it do if you struggle to get it and have it at a high rate? If you aren't covered, one would say better late than never. That said and done, if you are still young, don't wait until you are in your 70s and 80s to get the cover. It will save you quite a lot to take the cover as soon as you are in a position to do so.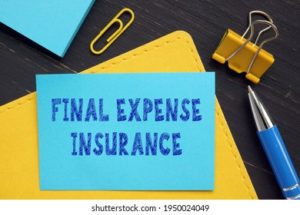 DOES ITS PAYOUT COME WITH STRINGS ATTACHED?
The answer to this question is a resounding no. That makes it quite a great cover. Those left behind are at liberty to use the money in whichever way they deem fit. The longer you have the cover, the higher the payout. With you no longer part of their lives, they may need this payout, especially if you were the major or only bread-winner. They won't struggle with any unpaid medical bills either. In some cases, the cover has become an inheritance to those left behind.
HOW CAN FINDMYQUOTES HELP YOU FIND THE RIGHT COVER?
After reading the above piece, you have most likely decided that it is the right time for you to consider final expense insurance. Now that you have made that decision, what's next? Don't worry about it because FindMyQuotes puts many insurance cover providers at your disposal. Consequently, you get to compare them and choose the best depending on your needs.